If you want to inform guests about the hours when a kids club is available, you can use the Timetable section. Follow these steps to learn how to set it up:
Go to the Kids Clubs section under Leisure on the left menu of the Content section of the CMS.
Click on Edit on the specific kids club you want to add the information to.
Click on Timetable on the upper menu of the kids club screen.
You will see the different options available to create a timetable.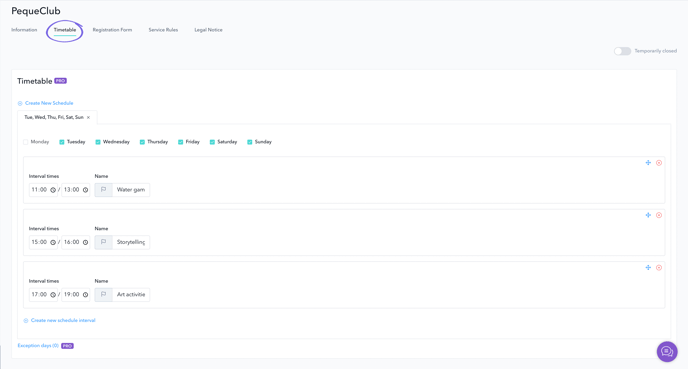 Select the days of the week to which the timetable will apply.
Use the Interval times boxes to type or choose (by scrolling down or up) the opening and closing times (in 24-hour format) of the service. You can add a name for the interval you have created using the Name field. By intervals, we mean the different times of the day when a kids club is open.
You can have for example the morning interval and the afternoon interval.
If you want to add a new interval, you can do so by clicking on Create new schedule interval.
You can add as many intervals as you need.
You can repeat this whole process for every day of the week if each one has a different schedule. You can also apply each timetable to any day of the week by checking the box next to each day.
Click on Save Changes at the bottom of the screen.
If a kids club is not available for a certain period of time, you can activate the Temporarily closed box on the upper right side of the screen to inform guests about the closure.
Please note that the kids club service is not bookable, guests can only check the service hours and enroll children in clubs.