When managing a kids club, you may need to provide certain information related to privacy policies or terms of use. In those cases, you can share this information with guests using the Legal Notice option.
In order to be able to attach a legal notice to a kids club, you first need to create the text. To do so, please follow these steps:
Access the CMS, go to Content on the upper menu of the platform and then go to Legal Texts on the left menu of the screen.
Click on Create Legal Text.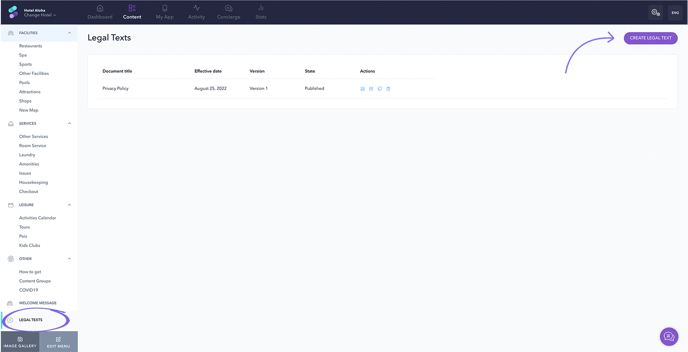 There are 4 actions available: View, Edit, Copy and Delete.

By selecting Compose legal text, you can write or paste your own text in the editor and add a name for it.
You have the option to add a text from an external website by selecting Link to external URL; or to upload a text in PDF format using the option Upload PDF.
Click on Save Draft if you want to save the text for later editing.
Click on Publish if you want it to be available to attach to services.
Once you have created a legal notice, you can now attach it to a kids club. Please, refer to this article to learn how to do it.