The Instant Feedback feature is a tool that allows you to collect the opinion of your customers about the services offered at your accommodation during their stay. Information is collected through a satisfaction survey in the app. When the customer uses the app, he or she is invited to take a short survey. The feature offers several survey types and allows a great deal of customization regarding content, configuration, and tracking.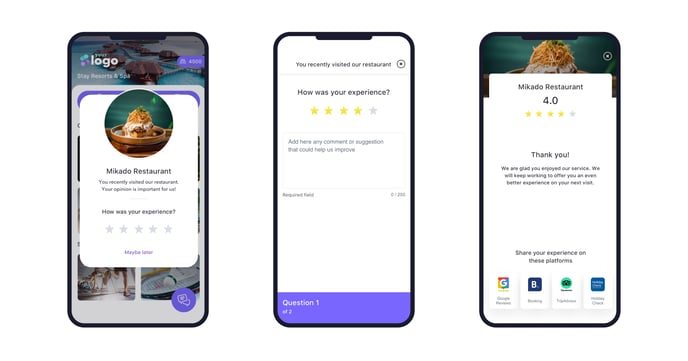 The great advantage of this tool is that it allows you to know the opinion of customers during their stay so that the property can identify areas for improvement and take immediate action to solve problems and improve service. In general, it allows you to analyze and improve both customer satisfaction and service quality.
You can access this STAY feature from the CMS by clicking on Feedback from the top menu with blue background.

Note on versions: the Instant Feedback feature has a basic and a PRO version, the PRO being an extended version that allows for more customization. The tool options being part of the PRO version will be indicated accordingly in the CMS. If you would like to see in detail what each version includes, refer to the article Comparison of the Starter and PRO versions of Instant Feedback.